Memory Lane - Another "My first car"
My first car was a Mini 1000, MHF 519 L (1972)
and was a mixture of blue and rust. It was bought from my mum's friend Cherry, a hairdresser who, much to my mum's horror gave me a crew cut haircut – but that's another story. Equipped with my Haynes manual, the first job I undertook was a cylinder-head decoke. Thus began several years learning what I could get away with and what I couldn't!
For the decoke, I got the engine disassembled with the top half of it neatly arranged on the chest deep-freezer that we (my mum that is) kept in the garage. It worked out as a very good worktop, right up to the point something was needed from the freezer for a meal. I guess the decoke when well as it fired up once it was back together.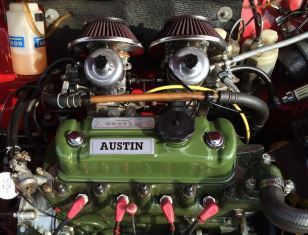 A-Series engine with twin SU Carbs.
Dealing with the rust entailed lots of scraping, wire brushing and the use of Trustran rust inhibitor that turned the rusty metal a deep bluish-black – it also turned a lot of other things a bluish-black, like my skin and the freezer top. Not to worry, bleach sorted both issues out and left my hands lovely and smooth… but do not try this as it does dissolve your skin, literally. Filling the now prepared holes was also loads of fun, attaching wire mesh in place as a frame to spread the filler across using my mum's pallet knife from the kitchen. Then came the sanding, and sanding and great clouds of filler dust, and… Oops – I wish I'd noticed my mum's washing that was hanging above the freezer to dry.
After the rust removal and filling and sanding came the painting. Painting involves undercoat and because I wanted to paint the car red I used an appropriate undercoat, however after I had finished spraying the car over with the undercoat I now had a pink car… PINK! Just imagine, an 18-year-old lad faced with driving to college in a pink car; needless to say, I took the day off college to start spraying the car red!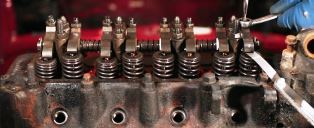 Tappet adjustments.
Now the garage is a little narrow to get down the sides of the car with the spray gun, so the car was placed on the drive and the spraying ensued. I was quite pleased with the results, ignoring the slight orange peel effect. My mum, however, was not so impressed. I was shocked; I thought I'd done a good job. She wasn't looking at the car though, she was looking at her drive that now had a nice mini-sized rectangle of pink and red overspray all around the car.
After that, it was pretty much plain sailing. Visiting scrap yards was a regular event and poring through car mags for inspiration for little projects. Unheard of nowadays, but cars often didn't have heated windows so I got a heated rear window kit and installed that. Cars at this time also didn't have high-level break-lights, so I got some spare breaks and mounted them on the rear parcel shelf so that anyone behind knew without a shadow of a doubt that I was breaking. Next came the two-up-two-down brackets that mounted two high-level high-power spotlights and two low-level fog lights. I realized that when the 60w main beam came on the 55w driving light went off… not after a little rewiring though; when main-beam came on the normal driving light also stayed on. So, woe betided anyone in front of me playing silly beggars.
Throughout my time with my first car, it went from a normal uninspiring blue mini rustbucket... to a bright flame-red light-display rally car lookalike with added Twin SU Carburettors, vacuum-assisted breaks and water heated inlet manifold. We went on many adventures around the country (battling snow drifts on occasion) and it served me very well, giving exhilarating freedom out on the Mold-Ruthin-Snowdon road.
Val's son.
PS: Much later, I build a car from scratch - another mini look-a-like but with a fibreglass body shell.
This time the kitchen worktop served nicely as a place to assemble my new half-race engine....
... "er, Hi Mum"...