Book Reviews For February
---
LETHAL WHITE by Robert Galbraith [aka J K Rowling] 
Published by Sphere 2018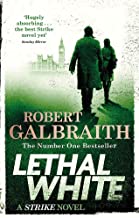 In order to construct a successful detective series, it's necessary to have a central character, or characters, to whom the reader can relate or finds in some way personally involving. It seems from the success of the books and the TV programmes, Galbraith/Rowling has succeeded with private investigator Cameron Strike and his business(?) partner Robin Ellacott. It is also necessary to avoid the private lives from overtaking the mystery which should form the core of the narrative. For those unfamiliar with the first two books or the TV adaptations, Strike (you'll get used to some of the eccentric character names) is an Afghanistan military veteran and Ellacott, an office temp who is a failed university student of psychology. In this, the third in the Strike series, Galbraith treads this tightrope well, but it is possible from the increasing size of the books, to tell that they are becoming more ambitious in their scope, complexity, and the treatment of the cast's lives. By using a private investigator, the plot can concentrate on the details of the 'who done it' and the details necessary for a convincing police procedural are nicely avoided. In this episode, the mystery is gratifyingly mysterious and there are shoals of red-herrings to swim through in a satisfyingly page-turning fashion. That's one reason why I think the TV adaptation of this novel was less satisfying than the earlier two adaptations – much had to be excised or abbreviated. Just because you have seen the TV version, don't think there's no point in reading the book. The central mystery here is who killed a Government minister and why? While set largely in a well invoked London, there are excursions outside the capital and Ellacott herself hails from Masham, so we have a Yorkshire connection. It is also clear that Rowling, freed from the bounds of her adolescent audience, writes in a way influenced by aspects of her personal history. Satisfying as a stand-alone novel, I think it better read in its place in the series.  
Cost: [Amazon] Paperback £7.57       Kindle £4.99
---
LESS THAN ANGELS by Barbara Pym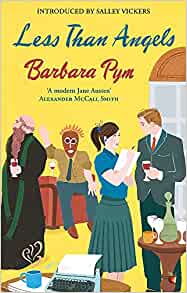 Barbara Pym's Less Than Angels was published in 1955. This novel was completely new to me, which surprised me because I assumed I had read them all. I loved these books so much at the time that I have just re-read the whole lot, barely stopping to eat or sleep. I like reading more than anything else and so this long and drawn out time that we have all found ourselves in, found me gorging on these wonderful stories whilst reminding me of how things were for me then.
Less Than Angels begins with a party, which I think is a brilliant and ingenious way of introducing us to all the characters especially when there are this many and there are so many. It slowly dawns on me that there is someone missing and this is Tom who is now, it transpires, working abroad at the International African Institute. He and other senior anthropologists have been invited to celebrate the opening of the library where they of course meet lots of students who are studying there. I discovered that after the war Pym applied for a job at the Institute, got it and ended up working here herself. She subsequently announced that as a novelist she could successfully do as interesting and as useful research and at the very least as effectively as any anthropologist might be doing for their area of work.
Thus follows a brilliant and inventive story packed with satire and wry humour. It is her characteristic organisation of a mesmerising patchwork of detailed minutiae that so fascinates me and I find completely consuming. Beautifully observed, she describes the interiors of suburban homes with linoleum covered stairs in student houses and exotic carpets in affluent homes. There are hungry students hoping beyond hope for research grants so they can finally leave home and get their lives started. Meanwhile she describes situations where women who, working as successful academics are subjected to dreary but opulent dinners laid on by wealthy but dull professors holed up in their oversized mansions laid on by the job. 
I found I sympathised with Caroline, who has the misfortune to live with Tom and reflects endlessly and understandably on the desperate state of affairs that there is only ever half an inch of sherry in the decanter, never any gin at all and a frankly pointless bottle of orange squash. There is a fascinating, almost Proust-like, invasion into the private lives and affairs of all the characters by all the other characters. Neighbours watching neighbours watching neighbours. During the many parties which happen with great frequency there is a hilarious bonfire party followed, a bit too swiftly, by a wake. Bang. She brings it all to an end. 
I was fascinated to read that during a BBC broadcast in 1978, Pym announced that during her own time at the International African Institute she met a huge number of people, all unlike anyone she had ever met before and that that this exhilarating and deeply creative experience directly resulted in the invention of a new book. She called this book Less Than Angels.
Cost: [Amazon]  Paperback £6.99       Kindle £1.99
---
THE DIG by John Preston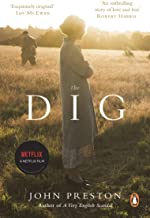 In 1939 literally just months before the outbreak of World War 2, a self taught archaeologist Basil Brown discovered an early Anglo Saxon boat burial containing a wonderful array of beautifully created gold and silver artifacts that made it very clear that our early ancestors were far from the war-mongering barbarians that the term 'Dark Ages' implied. Whilst the discovery of the fabulous Sutton Hoo burial ship and it's even more fabulous contents including the remains of the warrior King Raedwald makes, in itself, an interesting story, in this book it is much more about the people involved in the discovery, excavation, and publicity. People such as the quiet and humble Basil Brown and his prime benefactor and owner of the land in and around Sutton Hoo House, Mrs Edith Pretty with her young son Robert, and the 'professional' archaeologists who appear from nowhere to claim the credit, who make up the real story. 
Cost [Amazon]   Paperback £7.99    Kindle £4.99
Now a major motion picture starring Ralph Fiennes, Carey Mulligan & Lily James
---
  THE SEDLEIGH HALL MURDER by Roy Lewis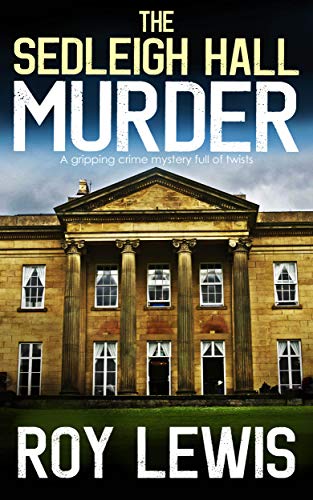 ---
Eric Ward was a policeman.  A detective inspector. He started having problems with his eyes, a terrible scratching, felt like cat's claws behind his eyes.  He knew then he wouldn't be able to carry on with his career in the police so he went to night school and got law degree.  Got a job as an articled clerk with a law firm in Newcastle. This job suited him and the boss gave him a job looking for beneficiaries in a will.  At the same time he was asked to assist in a case of disputed death duties.  This is a thick book, but easy to read and although it sounds dull, it is anything but.  If you give it a try I'm sure you'll be hooked and then go on to read the rest in the series.
Cost [Amazon]  Paperback £5.99      Kindle £0.99p
---