Monthly book reviews by our members:
---

'Gone'  by Michael Grant
This, the first book in the Gone Series, is a must-have for anyone over 12 who likes thrillers.
Imagine being trapped in a world with no adults. That's what happens to Sam and the other kids at Perdido Beach; everyone over 15 disappears without a trace and a wall blocks the remaining people from the outside world. They call it the FAYZ - Fallout Alley Youth Zone.
Strange things start happening - animals mutate, and some people develop strange powers. When the kids from the nearby boarding school show up, everyone is happy for them to take control. However, Sam and his friends realise that the new leaders are not what they seem...
And so begins a power struggle between good and evil. While the fight for control continues, darkness lurks deep within a nearby gold mine. But what is the darkness and who will win?
---
Cost [Amazon] - Paperback - £6.55       Kindle - £7.49
Aimed at the teenage reader, perhaps a gift idea for Christmas or birthday.
---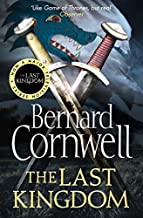 The Last Kingdom by Bernard Cornwell
No book group. What to do I thought I'd better up my game. Bernard Cornwell So, 'The Last Kingdom' Northumbria. 866 AD. Osbert, second in line to the castle of Bebbanburg (Bamburgh), is ten years old. For the first time since the infamous sack of Lindisfarne and the start of the Viking era, the barbarian Danes return to England to pillage and plunder to the full satisfaction of their greed. Osbert's elder brother is among the first to fall to the swords of the wicked pagans. And because of tradition set in stone among the great lords of Bebbanburg, Osbert must now give up his name for that of his dead brother. From this day, he is known as Uhtred Uhtredsson. Uhtred of Bebbanburg. Now we've got that bit over. Although I must say the day they saw the Viking boats off the coast must have been something to see. A majestic sight. It's an easy read, if you make a note of all the place names and forget how far apart the places are. They seem to get to anywhere in the country in a short space of time. Uhtred was captured by the Danes and adopted by Ragnor, who took a shine to him. He thought it was wonderful, no lessons, just being a boy, making hides, playing in the forest with his friends. However he never forgot who he was, the Earl of Bamburgh. So obviously there's lots of burning and pillaging and it's fiction, but it gives you an insight into life at that time.

---
Cost [Amazon] - Paperback - £6.99      Kindle - £2.99
An historical novel and an easy way to understand the Viking & Anglo Saxon period in Britain
---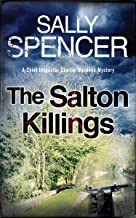 The Salton Killings by Sally Spencer.
This is the first book in the Chief Inspector Charlie Woodend mysteries. He doesn't suffer fools gladly and he is not like any detective you've seen before. He's scruffy, he talks to himself, and the top brass are desperate to get rid of him. You'll love him. The strangled body of a teenage girl is found in a salt store in a small mining town in Cheshire. The Chief Inspector and his new side kick, DS Rutter (chalk and cheese), have been brought in from the Met to solve the murder. Before too long another body is discovered from 16 years earlier and the manner of death is similar. There are a few suspects but I'll be surprised if you discover who did it before the end.
---
Cost [Amazon] - Paperback - £12.99      Kindle - £6.02 
There are 19 more books in this series, so if you like this first one, that's your reading sorted for the foreseeable future.
---