Snake In The Grass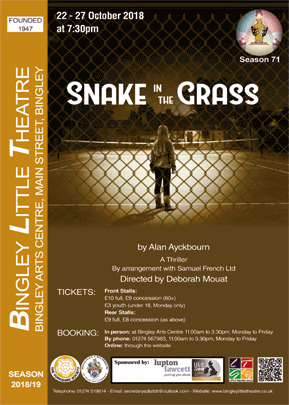 Bingley Little Theatre
Friday 26th Oct 2018 - 7.30pm
---
At A Glance
Event Date: 26th October 2018
Venue: Little Bingley Theatre, Bingley
Price: £18
Event Start Time:7.30pm
A message from the team:
Application forms will be delivered to all members on or about 11th Aug 2018 Closing Date For Ticket Applications: 25th Aug 2018
---
Snake In The Grass - A Thriller by Alan Ayckbourn
REVIEWS:
"A creepily, scarily, eerily enjoyable evening." - Sunday Times.
"It's a suspense drama about murder, blackmail and haunting; there is depth and subtlety..." - Financial Times
---
THE PLOT
Directed by: Deborah Mouat, Sponsored by Lupton Fawcett Denison Till - An unusual Alan Ayckbourn offering in which a blackmail plot leads to grim consequences.
---
Following her father's death, Annabel enters the garden for the first time since running away, aged twelve. She is met by Alice, the nurse to her late father. Alice states that she was dismissed by Annabel's sister, Miriam, not for inefficiency, as Annabel believed, but because she was trying to stop Miriam finishing her father off. These claims are backed up by a letter from their father, and knowing the will was changed in Annabel's favour, Alice demands compensation. When Annabel questions her, Miriam concedes that she might have removed one or two light bulbs, given her father a little push, and increased his dose of medicine "just three or four times".