The Creation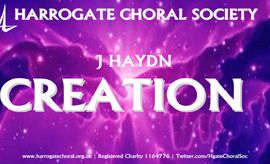 Harrogate Royal Hall
Sat 23rd March 2019 - 7.30pm
At A Glance
Event Date: 23rd March 2019
Venue: Harrogate Royal Hall
Price: £23.50
Running Time: 
Event Start Time: 7.30pm
A message from the team:
Application forms for this outing will be delivered to all members on or about 2nd Feb 2019

Closing Date For Ticket Applications: 16th Feb 2019
The Creation is considered by many to be Haydn's masterpiece composition. The oratorio depicts and celebrates the creation of the world as told in the book of Genesis. The work features three soloists who sing the parts of the three angels Gabriel, Uriel and Raphael in parts I and II. In part III Adam and Eve appear in the garden of Eden. The work also includes several monumental choruses for the HCS singers.
Soloists for the evening will be Sarah Power, Soprano; Ben Thapa, Tenor; and Miles Taylor, Bass. Harrogate Choral Society will be accompanied by the Amici Ensemble and conducted by the HCS Music Director Andrew Padmore
For more information: www.harrogatechoral.org.uk