Pirates of Penzance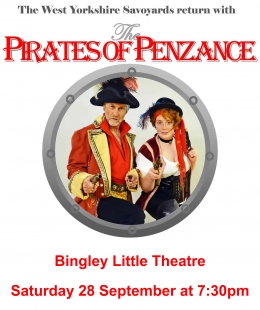 Event Date: Sat 28 September 2019

Event Time: 19:30 hrs

Venue: Bingley Little Theatre

Cost: £22.00

Order Tickets From: 07/08/2019

Final Date For Booking: 21/08/2019
A message from the team:
Applications for this outing is now closed, and we are pleased to say that we have sufficient numbers to justify Hargreaves 48 seat coach.
---
The Pirates of Penzance; or, The Slave of Duty is a comic opera in two acts, with music by Arthur Sullivan and libretto by W. S. Gilbert. The opera's official premiere was at the Fifth Avenue Theatre in New York City on 31 December 1879, where the show was well-received by both audiences and critics. Its London debut was on 3 April 1880, at the Opera Comique, where it ran for 363 performances, having already been playing successfully for more than three months in New York.
The story concerns Frederic, who, having completed his 21st year, is released from his apprenticeship to a band of tender-hearted pirates. He meets Mabel, the daughter of Major-General Stanley, and the two young people fall instantly in love. Frederic soon learns, however, that he was born on the 29th of February, and so, technically, he has a birthday only once each leap year. His indenture specifies that he remain apprenticed to the pirates until his "twenty-first birthday", meaning that he must serve for another 63 years. Bound by his own sense of duty, Frederic's only solace is that Mabel agrees to wait for him faithfully.
'Pirates' was the fifth Gilbert and Sullivan collaboration and introduced the much-parodied "Major-General's Song"
---
For More Information Visit: The venue website here.