Absurd Person Singular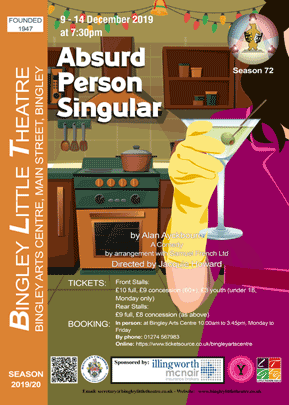 Event Date: Mon 09 December 2019

Event Time: 19:30 hrs

Venue: Bingley Little Theatre

Cost: £17.00

Order Tickets From: 23/10/2019

Final Date For Booking: 06/11/2019
A message from the team:
Application forms for this outing will be delivered to all members on or about 23rd October 2019. After this date you can now use the online Booking Form if you have arranged bank-to-bank payments. The Closing Date for ticket applications is 6th November 2019.
---
ABSURD PERSON SINGULAR by Alan Ayckbourn 
A classic night of Ayckbourn. "It feels almost indecent to laugh but somehow you just can't stop yourself". – Charles Spencer – The Telegraph.
Few plays expose the pressures of the festive season to such devastating effect: it's as if all your worst Christmases have arrived at once. 
---
For More Information Visit: The venue website here.