Jane Eyre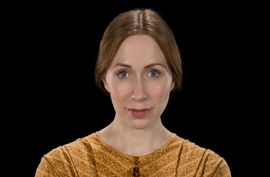 Event Date: Fri 25 October 2019

Event Time: 19:30 hrs

Venue: Harrogate Theatre

Cost: £24.00

Order Tickets From: 04/09/2019

Final Date For Booking: 16/09/2019
A message from the team:
Application forms for this outing will be delivered to all members on or about 4th September 2019. After this date you can now use the online Booking Form if you have arranged bank-to-bank payments. The Closing Date for ticket applications is 16th September 2019.
From the creators of Austen's Women, I, Elizabeth, Dalloway, The Unremarkable Death of Marilyn Monroe, The Time Machine, and Christmas Gothic
Struggling to think, live and love beyond the stifling expectations of duty, class and convention, governess Jane Eyre and Master Edward Rochester take a dark journey towards sensual and intellectual liberation. Told through Jane's eyes, English literature's most celebrated autobiographical novel shocked the Victorians, and Charlotte Bronte's gothic subversion of fairy-tale romance is now distilled for the stage under its full title by writer/director Elton Townend Jones. Performer Rebecca Vaughan embodies everywoman Jane and several other characters in this intimate study of loves realities.
★★★★★ Hands down the best adaptation of Jane Eyre, in any medium. (Broadway Baby)

★★★★★ Truly extraordinary one of the most exciting young performers on the British Stage (British Theatre Guide)

★★★★★ A theatrical masterpiece' (Edinburgh Guide)
For More Information Visit: The venue website here.