Event Date: Thu 27 October 2022

Event Time: 19:30 hrs

Venue: Bingley Little Theatre

Cost: £19.00

Order Tickets From: 06/08/2022

Final Date For Booking: 12/10/2022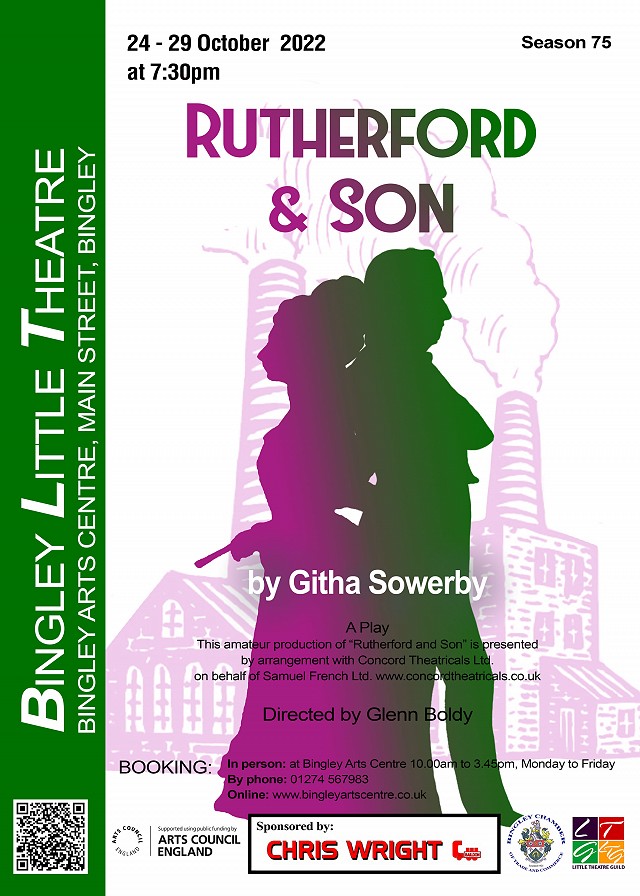 ---
Githa Sowerby's astonishing play was inspired by her own experience of growing up in a family-run factory in Gateshead. Writing in 1912, when female voices were seldom heard on British stages, she claims her place alongside Ibsen and Shaw with this searing depiction of class, gender, and generational warfare.
---
In 1885: John Rutherford, a northern capitalist, and the head of the family glassmaking business, wants to pass the 
business on to his oldest son, also named John. 
After spending time in London, where John Junior marries Mary, a working-class woman, 
he returns to the family home with his wife and new baby son. His return disturbs the 
balance of power: his homecoming is a catalyst that will have far reaching consequences 
for all the family. 
In the family home, Rutherford Senior rules with absolute authority and his will is 
imposed with a rod of iron. He tyrannises a household that includes his sister Ann, and 
his other children, Richard, a curate, and the unmarried Janet. 
The family business is ailing. Rutherford is having to placate the banks and an impatient 
board of directors. He is under pressure to ensure the survival of the company. 
Is there a way out? 
Has John Junior stumbled upon an ingenious solution that would transform the 
businesses finances? 
The ensuing power struggle between the tyrannical father, his children and his faithful 
factory manager, Martin, wreaks havoc. 
The world as Rutherford knows it is changing: the hierarchy is shifting and the 
relationship between a dominant Victorian father and his more liberal Edwardian children is being challenged. 
Each of the family siblings wants to free themselves from the suffocating prison that is their family home. But will 
their desire to explore their roles in society and assert their independence have devastating consequences for John 
Rutherford Senior…and the family business? 
---
PICK-UP POINTS
HEBDEN: 6pm  COLVEND: 6.05pm  HEDGEROW: 6.10pm  LONG ASHES: 6.15pm  OLD HALL: 6.20pm  CRACOE: 6.25pm
---
---
TICKETS CURRENTLY SOLD - 34    [THIS OUTING WILL NOW RUN]
---
TO BOOK YOUR TICKETS