Event Date: Mon 03 April 2023

Event Time: 19:30 hrs

Venue: Bingley Little Theatre

Cost: £16.00

Order Tickets From: 18/11/2022

Final Date For Booking: 13/03/2023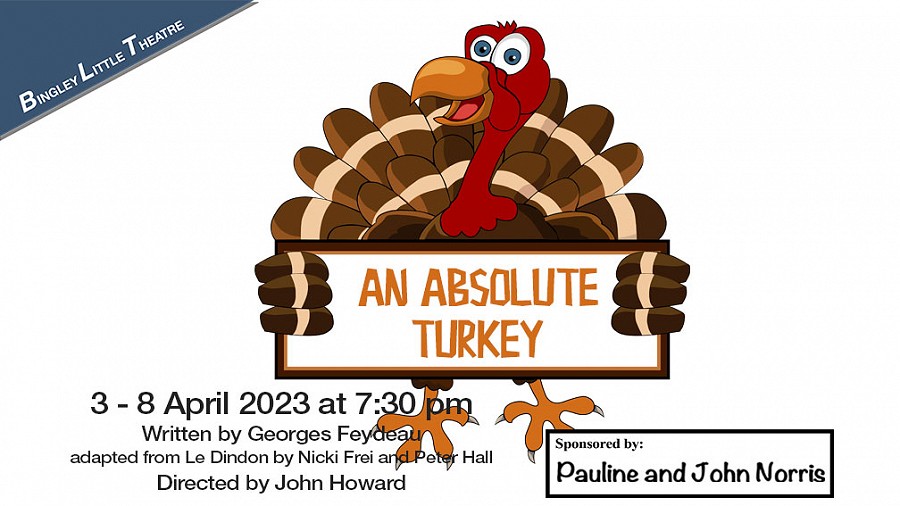 ---
An Absolute Turkey is a farce of dizzying whirls of intrigues, betrayals, errors and misunderstandings. Dare you jump on?
---
Prepared to be breathless with laughter as we join the inhabitants of a small town that thrives on romantic gossip and intrigue, bed hopping, lust and revenge, confusion and resolution. Who will be caught with their trousers down? Will scheming lovers escape scot free? Will virtue triumph? There's only one way to find out.
Join us for a hilarious romp that'll blow away the cobwebs and sprinkle a little Spring magic into your life.
---
---
COACH PICK-UP POINTS
HEBDEN 6pm  COLVEND 6.05pm  HEDGEROW 6.10pm  LONG ASHES: 6.15pm  OLD HALL 6.20pm  CRACOE 6.25pm
ONCE BOOKED PLEASE DO NOT CHANGE YOUR PICK-UP POINT WITHOUT INFORMING THE OUTING COORDINATOR
---
CURRENT TICKET SALES: 42         Outing Coordinator - Mary Wilkinson (Tel: 01756 752 740)
CLOSING DATE FOR BOOKING 13 MARCH 2023
---
TO BOOK YOUR TICKETS